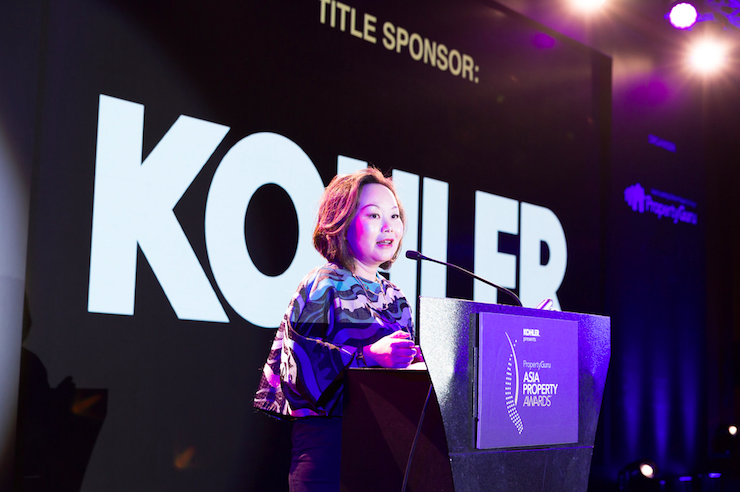 Angel Yang, president of Kohler Co Kitchen and Bath Asia Pacific, at the 2017 PropertyGuru Asia Property Awards gala dinner in Singapore
Kohler Co. returns as the platinum sponsor of the region's biggest and most prestigious real estate awards programme, the 2018 PropertyGuru Asia Property Awards series.
The company serves as this year's title sponsor for the gala dinners in Malaysia (26 April), the Philippines (11 May), Vietnam (22 June), Thailand (31 August), Indonesia (20 September), and Singapore (12 October). In addition, Kohler is also the title sponsor of the much-awaited, eighth annual Grand Final ceremony to be held in fir the first-time Bangkok this November.
Angel Yang, president of Kohler Co Kitchen and Bath Asia Pacific, said: "We are proud to be back as the main sponsor to support this year's PropertyGuru Asia Property Awards. The awards give recognition of excellent projects throughout the property industry in Asia."
She added: "We hope to continue the effort in partnership to accredit these outstanding property owners by providing them a platform to facilitate the sharing of great works and projects within the highly competitive Asia Pacific arena."
In 2017, Kohler served as title sponsor in five markets: the Philippines, Vietnam, Malaysia, Indonesia and Singapore.
With more than 48 manufacturing locations worldwide, Kohler is a global leader in the manufacture of kitchen and bath products; engines and power systems; premier furniture, cabinetry and tile; and owner/operator of two of the world's finest five-star hospitality and golf resort destinations in Kohler, and St Andrews, Scotland.
Founded in 1873 and headquartered in Kohler, Wisconsin, Kohler Co. is one of America's oldest and largest privately held companies comprised of more than 33,000 associates.
The Kohler brand has remained true to the founding vision of defining the frontiers of design, and has been an industry leader in innovation and quality craftsmanship for the last 145 years.
Established in 2005 to 'recognise the region's finest real estate,' the PropertyGuru Asia Property Awards series has an unparalleled reputation for being credible, fair and transparent, with an independent panel of judges and trusted awards supervisor. It hosts several annual gala dinners, welcoming up to 600 C-level executives and industry figures from around the region.
The series is renowned for presenting the ultimate hallmark of excellence in the Asian property sector, journeying through Asia-Pacific's most dynamic markets and culminating in a regional Grand Final this year on 9 November at The Athenee Hotel, Bangkok.
The finale is a collocated event of the two-day PropertyGuru Asia Real Estate Summit on 8-9 November, a gathering of global leaders in property technology, blockchain and smart cities.
For more information, email awards@propertyguru.com or visit the official website: AsiaPropertyAwards.com.